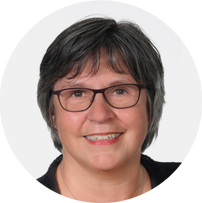 Driven by dedication
Our music therapists and Board members are brought together by a mission to make music therapy and all its benefits more accessible.  Our passion is shared, but our backgrounds and inspirations are unique.
The Institute is a place where music therapists and allied professionals gather to brainstorm, share creative ideas and make new and exciting projects come alive!
Suzanne Caron, Founder and President of the National Music Therapy Institute
While COVID-19 closed many doors, it also opened a surprising number of opportunities for us to push our creativity, finding new ways to serve and connect with the community.
Guylaine Vaillancourt, Clinical Director of the Institute
During the pandemic, we have never been more collectively isolated or overrun trying to keep everyone safe and healthy. More and more healthcare professionals are looking for creative health disciplines to work through physical, emotional and social suffering
Samantha Borgal, Music Therapist with the Institute
I believe that making and sharing music can help heal the heart and soul, bringing joy back to the living who lost a loved one.
Martine Létourneau, Music Therapist with the Institute
Music therapy is a vast and generally underutilized resource. Public outreach and education, which are occurring through the Institute, will help the general public to better understand the benefits.
Dan Goldman, Music Therapist with the Institute
As the sanitary situation related to COVID-19 required to stop in-person services, the Institute provided the opportunity to offer online music therapy sessions: thank  you, in my name and in the name of clients who are benefiting from those remote services.
Claudia Gagné, Music Therapist with the Institute